Dear Readers,

Are you spending hours over the phone ,tweets ,email and blogging. Very important message for you please read.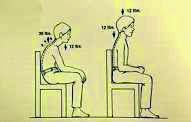 Spine Care
Do you care of your spine???
In our daily life we are spending much time on mobile and computers isn't it…It leads to put pressure on back and neck. Please follow the message given in this article as I care for you.    
Bending the head at a 60 degree angle to look at a phone or pc ,laptop screen puts 27kg worth of pressure on the cervical spine, the part of the spine above the shoulders, the study found. That is heavier than the average seven-year old.
The extra pressure leads to early wear and tear, causing neck and back pain. In the worst case, the person may need surgery, experts said. Led by Dr Kenneth Hansraj ,chief of spine surgery at New York spine surgery and Rehabilitation medicine, researchers found the amount of force on the neck increase with the degree it is bent. 
Tilting the head by 45 degree by 45 degree adds the force of 22kg to the neck a CBS news report said, A 30-degree neck tilt equals 18 kg, while a 15-degree neck tilt puts an extra 12 kg on the spine.     
Writing in the study, the researchers said: "the weight seen by the spine dramatically increases when flexing the head forward at varying degrees." The loss of the natural curve of the cervical spine leads to increase stress on the neck they added. They said "these stress may lead to early wear ,tear, degeneration and possibly surgeries."           
They concluded :"While it is nearly impossible to avoid the technologies that cause this issues , individual should make an effort to look at their phones with a neutral spine and to avoid spending hours each day." According to the researchers ,bad posture is when the head is tilted forward and the shoulders drop forward in a rounded position.
Good posture was defined as having ears aligned with the shoulders and the shoulder blades retracted. previous Bad posture leads to a number of health problems.
So, This is about Spine Care. What are your views on this topic? Do let me know in the comments. If you like this article please share and rate it. I will come back with new posts for Health, Recipes and Herbal Beauty tips soon.
www.sazworld.com