Dear Readers, 
Today I am going to discuss about the benefits of pomegranate.Pomegranate is the pane ace for all diseases.Pomegranate is  beneficial in thirst burning sensation, mouth infection, heart problems,foul smelling mouth,fever ,cardiac trouble and vocal disorders.They cure dysentery and increase blood and vitality.
How?? Read this article to know the tips.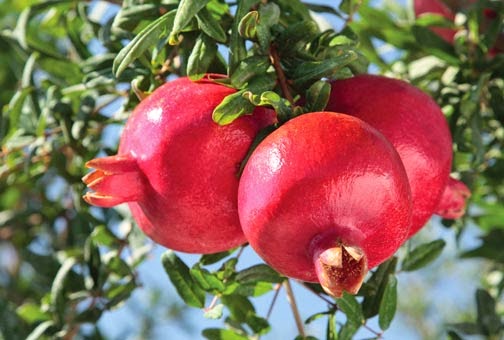 HEALTH BENEFITS OF POMEGRANATE
Pomegranate has three varities sweet ,sourly sweet and sourly sweet with astringent taste.They increase intellect.They vitalize the body and satisfy hunger. They effectively alleviate all the three ailments windiness,biliousness and cough.
Pomegranate plant have unique medicinal qualities.Apart from the fruit, the buds skin of fruit,flowers,leaves,roots and bark of the tree contain medicinal properties.The seeds of raw pomegranate, when dried and powdered is good for heart and acidity problems.
The skin of pomegranate destroy germs, good for constipation , effective in stopping blood flow in stools.The raw fruit is good for heart and acidity problems.
Pomegranate is suitable for problems relating to bleeding from nose.Pomegranate flowers which fall to the ground ,a few drops of juice from these buds are useful in stopping bleeding from the nose .The roots destroy germs and very good as pesticides.
Pomegranate dried powdered and rose flowers can be stop bleeding of gums.Gargle with water of boiled pomegranate roots help in attending to foul smelling mouth and ailments of the gums.
Pomegranate leaves powder rub on gums for problem related to loos teeth , bleeding and swelling gums.Dried powdered pomegranate flowers alone is is a good for bleeding gums.
Apply Pomegranate leaves paste on the eyes for relief from pain and irritation of the eyes.Other ailments of the eyes can be cured by using a few drops of the juice obtained fron fresh pomegranate leaves.
Mix crystal sugar in juice of pomegranate leaves and drink twice in a day to get rid of cold and cough.For other throat related ailments , take pomegranate leaves powder  with honey in the morning gives good relief.
Pomegranate shade dried leaves powder with coriander powder.Mix same quantity wheat flour and fry in cow milk ghee.Take 2 times morning and evening 50 gm along with hot milk for relief from head ache and dizziness.
Skin powder of the pomegranate fruit mix with water and apply for relief.Lick a paste of grounded fresh pomegranate buds, Cardamom seeds and sugar to improve hair quality.
Take shade dried pomegranate leaves powder by mixing in water or curd daily in the morning for removing worms from the stomach.
So, these were the tips about the benefits of pomegranate. What are your views on the topic? Do let me know in the comments.If you like this article please share and rate it and comment below. I will come back with new posts soon.