Dear Readers

, Sleep Apnoea is a condition that interrupts your breathing when you are asleep. Know about Snoring and Sleeping Disorders Causes and Treatment. Sleep apnoea or snoring is common in some of the youth and aged people. An obstruction blocks the back part of the throat and air cannot reach lungs properly. This is due to overweight or producing too much mucus. The difficulty in breathing makes you wake up by depriving oxygen and good sleep.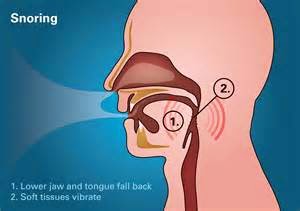 Snoring and Sleeping Disorders
Causes for Sleep Apnoea or Snoring
Smoking and alcohol drinking too much leads to apnoea and snoring. Muscles of Upper airways get relax by alcohol, and smoke develops three times more sleep apnoea. Smoke damage lungs, skin looks aged and affect the internal skin of throat.
Skin loses its elasticity-giving an internal 'turkey neck' that wobbles as He/She breathe. 
This is how makes the snoring sound. Mucus coats the throat and nose also one of the causes of snoring. It's very important to give up smoking.
Food
: Take a strong antioxidant supplement containing vitamins C, A and E. Consult your doctor for more suggestions on medicine and food.
Lose Weight
:
Excessive fat increases the bulk of soft tissue in the neck and throat muscles gets strain. Stomach fat also leads to breathing difficulties. Diabetics also have the risk of sleep apnoea.
Sleeping Medication
: How to sleep with apnea? Keep your room dark, minimum light can be used. Avoid coffee, tea, and alcohol. Eat before 2 hours of going to bed. Wear loose and cotton clothes. Keep your room clean, airy and fresh. Try to sleep on your left-hand side.
Allergies

:
Allergies leads to louder snoring and sleep disorders which is also called sleep apnoea. Avoid wheat and dairy foods if it makes a difference.
Best Foods for 

 Sleep Apnoea or Snoring
Vegetables and Organic Fruit.
Meat, beans, cheese, lean and pulses.
Lukewarm milk with little sugar before going to bed is a marvelous remedy for good sleep.
Follow morning walk and exercises.
Avoid Food for

 Sleep Apnoea or Snoring
Refined and processed foods
Note: If any serious health problem please consult your doctor immediately. The above-given home remedies and steps should be followed Under the guidance of your health-care practitioner.
So, these were the Tips on Sleep Apnoea or Snoring. What are your views on the topic? Do let me know in the comments. If you like this Article please share and rate it. I will come back with new posts for Health, Recipe, and Herbal Beauty tips soon.
www.sazworld.com